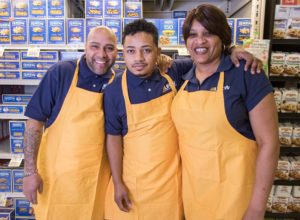 Members of UFCW Local 1059 who work at Kroger stores in Columbus, Ohio, ratified a new contract on Nov. 8 that includes wage increases and maintains benefits. The new contract covers more than 13,000 members in 88 stores in Columbus and surrounding areas.
The new four-year agreement increases starting pay to at least $10 per hour, which raises wage progressions to $11 per hour after one year of service. The agreement also includes a premium increase for night shift work, makes full-time status more accessible, maintains health care benefits and protects pensions.
"UFCW Local 1059 is pleased to have negotiated a new contract in midterm that secures better wages, continues to provide affordable health care and provides a voice for our hard-working Kroger members," said UFCW Local 1059 President Randy Quickel.