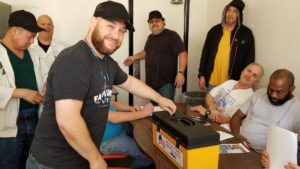 UFCW Local 152 members who work at George L. Wells Meat Company in Philadelphia unanimously ratified a new contract on July 18. The members are employed as meat cutters and sanitation workers.
The new three-year contract includes wage increases each year and a continuation of 100 percent health care contributions by the company, including a maintenance of benefit increases during the lifetime of the contract.
George L. Wells Meat Company has been providing quality meats for area fine restaurants and hotels since 1908.