UFCW members stood together to negotiate strong contracts this year, and many new members celebrated the benefits of having a first union contract.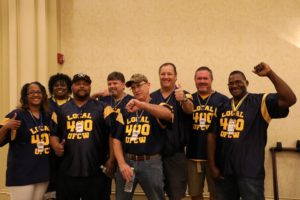 Paul Garrison, a member of UFCW Local 400 who works as a mechanic at the nation's only Lipton Tea plant in Suffolk, Virginia, voted with his colleagues to approve a first union contract in July.
The ratification represented the first time in the history of the plant when workers were given the opportunity to vote on the terms and conditions of their employment. The four-year contract includes significant improvements to working conditions and health care benefits, and places strict limits on when management can require employees to work overtime. The contract also provides workers with four days per year to opt out of mandatory overtime, in addition to two weekends off each month in which they can't be forced to work overtime.
"For the last 10 years, we saw so many of our benefits taken away," said Garrison. "But now that we have a union, we're getting them back again."
Evan Adams-Hanson, a member of UFCW Local 653 who works as a front end floor coordinator at Linden Hills Co-op workers in Minneapolis joined his colleagues in ratifying a first union contract in September. The three-year agreement includes raises for all employees and paid time off.
"By standing together and voting to approve this contract, we've improved our lives and jobs. We chose to do this because we're committed to strengthening our co-op and community because no one deserves to be left behind or struggle alone," said Adams-Hanson.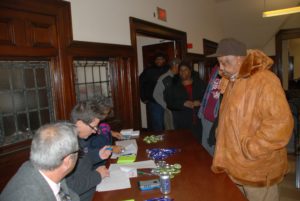 Gilbert Grigsby, a food service workers for the Bon Appétit Management Company in St. Louis was one of 300 members of UFCW Local 655 who ratified a first union contract in November. The workers serve the students of Washington University, and negotiated a three-year contract that includes wage increases, additional vacation days, more funeral leave, improvements to overtime rules, and guaranteed "show up" pay. The contract also gives workers access to the union's health care and retirement packages.
"This is why we voted to form a union," said Grigsby. "We wanted better pay and working conditions that we've worked hard for, and this contract is the result of a lot of hard work. I'm thrilled to be joining this union with this new contract."
Here's a list of the negotiating victories that appeared in OnPoint this year:
Local 152 ShopRite Workers Ratify New Contract
Bon Appétit Food Service Workers Ratify First Contract
Local 7 Gino Morena Beauticians Ratify First Contract
Local 222 Seaboard Triumph Foods Workers Ratify First Union Contract
Local 400 Kroger Workers Ratify New Contract
New Contract Ratified by Food 4 Less Workers in Southern California
Local 21 Planned Parenthood Workers Ratify New Contract
Local 1473 WPS Workers Ratify New Contract
Local 653 Linden Hills Co-op Workers Ratify First Union Contract
RWDSU/UFCW Local 1102 Saks Contract Has National Impact
Local 400 Shoppers Food & Pharmacy Workers Ratify New Contract
Local 1000 Kroger Workers Ratify New Contract
Local 7 Safeway Pharmacy Technicians Ratify First Union Contract
RWDSU/UFCW Local 875 Sodexo Workers Ratify New Contract
CVS Workers in Southern California Ratify New Contract
Local 152 Bradley Beach Workers Ratify New Contract
Local 152 Beef International Workers Ratify New Contract
New Local 9 QPP Contract Increases Wages and Benefits
Local 21 Doctors Clinic Workers Ratify New Contract
New Local 400 Peapod Contract Increases Wages and Improves Workplace Conditions
Local 400 Lipton Tea Workers Ratify First Union Contract
Guitar Center Workers Ratify First Contract with RWDSU/UFCW
Local 1059 Members at Meijer and General Mills Ratify New Contracts
Local 152 Wilson's Market Workers Ratify New Contract
Local 700 Tyson Foods Workers Ratify New Contract
Local 1445 UMass Memorial Medical Center Workers Ratify New Contract
RWDSU/UFCW Local 513 Coca-Cola Workers Ratify New Contract
Local 371 Foxwoods Resort Casino Workers Ratify New Contract
Local 21 Valley Medical Center Pharmacy Workers Ratify New Contract
Local 27 Moran Manor Workers Ratify First Contract
Local 919 Vernon Cafeteria Workers Ratify New Contract
Local 152 Johanna Foods Workers Ratify New Contract
RWDSU/UFCW Local 262 Chetak Workers Ratify First Union Contract
RWDSU/UFCW Local 3 Bloomingdale's Workers Ratify Historic Contract
RWDSU/UFCW Local 17 Del Monte Foods Workers Ratify New Contract
Local 431 Logistic Services Workers Ratify New Contract
Local 655 Holten Meat Workers Ratify New Contract
RWDSU/UFCW Local 108 Gateway Shuttle Bus Drivers Ratify First Union Contract
RWDSU/UFCW Local 108 Pavilion Building Tower Workers Ratify First Union Contract
Local 876 Kroger Workers Ratify New Contract
Local 21 Olympic Medical Center Home Health Workers Ratify New Contract
RWDSU/UFCW Babeland Workers Ratify First Contract
Local 21 Grays Harbor Community Hospital Workers Ratify New Contract
Local 152 Bristol Glen Communities Workers Ratify First Contract
RWDSU/UFCW Union City Parking Authority Workers Ratify New Contract
Local 1189 Minnesota Medical Solutions Cannabis Workers Ratify New Contract
RWDSU/UFCW Local 1102 Modell's Workers Ratify New Contract
Local 1776 Cargill Workers Ratify New Contract
Local 1189 Gordy's Market Workers Ratify First Contract