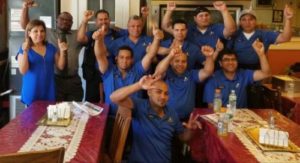 In March, RWDSU/UFCW Local 108 members who work at the Pavilion Building Tower in Newark, N.J., ratified their first union contract. The workers, who range from porters to superintendents with backgrounds in refrigeration, air conditioning, heating, and plumbing, joined RWDSU/UFCW Local 108 last year because they wanted management to treat them with respect.
The two-year contract brings hourly wage increase annually, guarantees minimum pay higher than any future New Jersey state minimum wage increases, and brings workers into the RWDSU/UFCW medical plan. Workers will receive overtime pay for working on holidays, and the contract addresses health and safety concerns. In addition, the company will provide needed uniforms and equipment so workers can do their jobs safely and properly.
"There is no greater satisfaction then seeing people stand up for themselves and improve their working conditions. This was a great day for this group of workers in Newark," said RWDSU/UFCW Local 108 Representative Abraham Asabor.