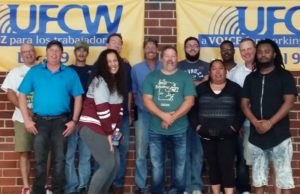 On July 25, about 1,100 members of UFCW Local 9 who work at Quality Pork Processors, Inc. (QPP) in Austin, Minn., ratified a new contract.
The four-year contract includes substantial wage increases; two weeks of vacation after one year of service; long-term disability at 50 percent for up to 10 years; and free health care through a clinic for QPP retirees and their spouses. The contract also freezes the family weekly copay at the current rate for the entire length of the contract.
QPP employees who were members of the bargaining committee were pleased with the contract.
"This was the most selfless committee I have ever been a part of," said Matt Karnes. "The camaraderie between each committee member made it possible to reach our goals."
"Working together for our people and fighting until the end got us this contract," said Claudia Ambriz.