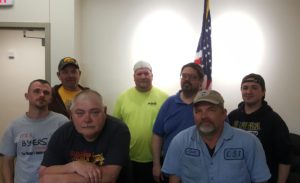 On April 17, members of UFCW Local 431 who work at Logistic Services LLC, a warehouse for Hormel Foods in Eldridge, Iowa, unanimously ratified a new four-year contract.
The new contract covers about 75 workers in the display area and warehouse, and includes wage and start rate increases and maintains current insurance benefits. The new contract also includes a paid union orientation, an increased pension benefit for all years of service, increased vacation time to five weeks after 25 years of service, additional paid funeral leave, and an increase in a safety shoe allowance. In addition, the new contract separates the attendance discipline from other disciplines.
"I'm very proud of our negotiating committee for standing firm on the important issues of wages and benefits to guarantee a better future for their families, but also for language to ensure a safer workplace and the ability to have paid time to discuss the importance of joining our union family," said UFCW Local 431 Secretary-Treasurer Lois Taylor.