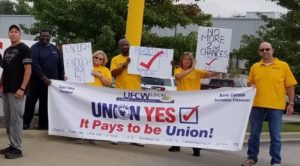 In 2019, workers from around the country who work in a variety of industries ranging from food and non-food retail to health care stood together for a better life by joining our union family. A list of organizing victories is included in this article.
Maria Lucas, who works at L&R Distributors in Monroe Township, N.J., joined UFCW Local 2013 on August 8 for better treatment in the workplace.
"Every great dream begins with a dreamer," said Lucas. "We just have to convince other people that they have the power. This is what they can do by participating to make change. It is important to stand up for your rights, and regardless of who you are and where you come from, to hold your head up high with dignity and respect."
Blaine Hill, who works at Vireo Health's Maryland Medical Solutions in Hurlock, Md., joined UFCW Local 27 on March 22 for better pay and benefits.
"It's exciting to know that we will have job security and will have the power to bargain for improvements to our jobs," said Hill.
Here are the organizing victories that appeared in OnPoint this year:
Zara Workers in New Jersey Join Local 888 to Strengthen Good Jobs
New England Workers Join Local 1445 to Make Health Care Jobs Safer
Save-A-Lot Workers in Ohio Join Local 880
Meat Processing Workers in Colorado Stand Together for a Better Life
Region 7 Welcomes More Members to Our Union Family
Goodwill Workers Join Local 655 in St. Louis for a Better Life
Kentucky Auto Workers Join Local 227
New Jersey Warehouse Workers Stand Together for a Better Life
Sodexo Workers in Kentucky Join Local 227
Massachusetts Nursing Home Workers Unite for Good Jobs, Better Wages
Transit Drivers in Massachusetts Stand Together for a Better Life
Mississippi Cottonseed Co-op Workers Join ICWUC
New York Nursing Home Workers Vote to Join RWDSU/UFCW
Washington Health Care Workers Join Local 21
Grocery Workers in Milwaukee Join Local 1473
Growing Number of New York Zara Workers Join RWDSU/UFCW
THRIVE Network Workers Join Local 888 for a Better Life
UFCW Welcomes Vireo Health Workers in Maryland to Union Family