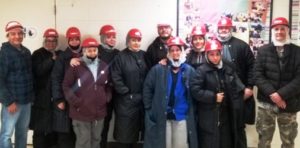 Quality Assurance workers at Denver Processing unanimously voted to join UFCW Local 7 on Oct. 4. The workers are excited to become a part of the existing contract that UFCW Local 7 already has in place for production workers at the facility.
Denver Processing is a meat processing facility located in Denver that cuts all the beef and pork for the King Soopers grocery stores (a division of Kroger) in Colorado. The Quality Assurance workers look forward to having union health care and pension benefits, as well as the other protections the contract provides. Additional issues they look forward to addressing include the personal time and sick days that were previously cut by the company.
These workers are happy to be a part of our union family. "I am very excited and ready to be part of the union because we will have better benefits," said María Avalos.