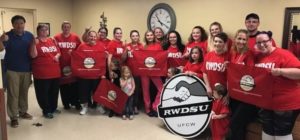 On June 19, approximately 60 workers at the Valley View Manor Nursing Home in Norwich, N.Y., voted overwhelmingly to join the RWDSU/UFCW. The workers joined our union family because they were concerned about fair scheduling, wages and paid time off.
Members of the bargaining unit handle all operations at the facility and include licensed practical nurses, certified nursing assistants, laundry and maintenance workers, as well as workers who help with dietary and activity programs for patients.
"When we work together, we win together," said Christine Taranto, who is a licensed practical nurse. "For far too long, our scheduling practices have limited our ability to provide patients with the care they need and deserve. I'm proud that we were able to win a voice at the table for both workers and the people we care for every day. I know everyone who works alongside me knows that representation from the union will change our future here. We're ready to get to work on a fair contract that will help workers and patients here at Valley View Manor."
"It's inspiring to see workers from within my community standing up in their workplace for what they believe in. It takes great strength and courage, and they were steadfast in their commitment," said Jason Chesebro, who is a RWDSU/UFCW organizer and local resident.
"We're proud to welcome the workers of Valley View Manor into the union," said Stuart Appelbaum, president of the RWDSU/UFCW. "They showed that the best way for working people to protect themselves and their families is to join together in a union. It is clear that nursing home workers want change not just for themselves, but for their patients. Today's victory helps both. The courage workers at Valley View Manor showed today will ensure that their voices are heard and that lasting changes to the facility are made."