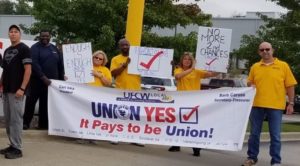 In a recent victory for Ohio workers, more than 100 Save-A Lot distribution center employees in Austinburg voted to join UFCW Local 880 for a better life. The workers joined our union family because they were concerned about health care, treatment by management, and other issues.
This victory is due, in part, to the work of UFCW Local 880 Organizer Lonnie Stacy and Region 4 Organizing Coordinator Cedric Burroughs, who worked around the clock over the past two months through committee meetings, home calls, phone calls, texting, Hustle, and hand billing. These organizers assisted a solid worker organizing committee that stayed strong from the first day until the day of the election in spite of management's union-busting tactics.
Save-A-Lot employees were happy to join our union.
"It feels amazing that we were able to stick together through all of the mandatory union-busting meetings and constant threats from management," said Shawn, one of the Save-A-Lot employees.
"Honestly, this win is just the beginning," said Rebeccah, another Save-A-Lot employee. "It feels great that all of our hard work and petitioning paid off and we're ready for the next step: getting our contract negotiated and accepted."