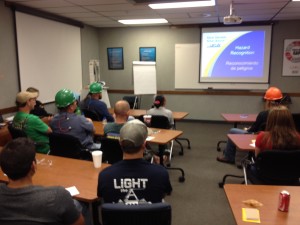 The UFCW has initiated a new health and safety program for workers in UFCW JBS plants. The program is a new joint effort with JBS to establish a uniform safety program for workers and management throughout the chain. This is the first time JBS and the UFCW have come together to create a program that is specific to keeping workers safe.
The first part of the program focuses on training union reps, workers, staff, and JBS management to learn about identifying the underlying causes of workplace injuries, illness, and fatalities. The second part trains participants on how to correct, control, and prevent those workplace hazards. The ultimate goal is to develop a sustainable system where people in the plant know how to prevent hazards, how to identify them, and how to follow the correct procedures to efficiently correct hazards.
The health and safety program came about when UFCW staff initiated a meeting with JBS corporate safety staff out of concern for the safety and well-being of workers. During the meeting, both sides agreed that there was room for improvement in the health and safety protocols at the plants. A year later, UFCW and JBS finalized a plan to work jointly to address safety issues and develop the new health and safety program.
"The joint training has been a very positive experience for all parties involved. It has provided some different ways of looking at the hazards in the workplace that most people overlook. I am excited to continue with this training in our facilities and providing our employees a safer environment to work in," said Marvin Spidle, corporate safety manager from the Federal Business Unit at JBS.
The program began in January, and JBS workers at UFCW Locals 540, 1161, 293, and 435 have already gone through the first phase of the training. During the first phase of the program, workers and staff learned how to identify workplace hazards in their plant. Following the classroom training, participants then walked together through their plant to apply their new knowledge and identify any hazards that they learned about in the training. Some common safety hazards that workers are trained to spot include unguarded shafts and belts, slippery floors, narrow aisles, and unlabeled exposed pipes and electrical wires.
"It was great to see everybody working together in the setting to make our plant safer. During our walk-through, it was good to have a new set of eyes to help spot hazards that might have otherwise been overlooked," said Darin Rehnelt, a representative for UFCW Local 1161.
The trainings last about six hours and are conducted in English and Spanish. Following the JBS plant trainings, the plan is to take the health and safety program to workers in the poultry industry, including those who work in JBS's Pilgrim's Pride plants.
If you are interested in having a health and safety training in your local plant contact Kurt Brandt at kbrandt@ufcw.org.