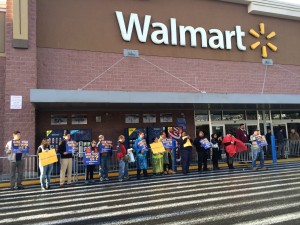 Making Change at Walmart (MCAW), released the following statement in response to an NLRB ruling by an administrative law judge that Walmart retaliated against workers for participating in strikes.
"Today's decision proves beyond doubt that Walmart unlawfully fired, threatened, and disciplined hard-working employees simply for speaking out," said Jess Levin, communications director for MCAW. "Not only is this a huge victory for those workers and Walmart workers everywhere who continue to stand up for better working conditions, but it sends a message to Walmart that its workers cannot be silenced. We will continue to fight to change Walmart for the better."
The ruling states:
Walmart must offer 16 former employees full reinstatement to their former jobs.
Walmart must give those 16 former employees back pay.
Walmart must hold a meeting in 29 stores to inform employees of their right to strike and vow not to threaten or discipline employees for striking.
The full ruling can be read here: http://apps.nlrb.gov/link/document.aspx/09031d4581f9c706.