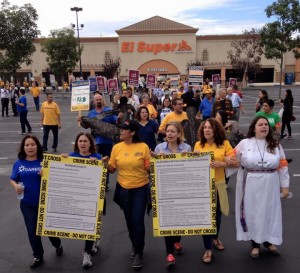 El Super grocery chain is facing further scrutiny from federal regulators after the National Labor Relations Board (NLRB) issued a new complaint against the Paramount-based market. The latest complaint – alleging El Super violated workers rights- comes less than one week after unionized workers at seven El Super stores in California staged a one-day strike over unfair labor practices (ULPs).
The NLRB alleges that El Super violated federal labor laws by refusing to honor the required grievance process for a number of workplace issues, including unsafe equipment and claims of underpayment. The company also "failed and refused" to supply the union with information critical to ongoing contract enforcement and bargaining. A hearing has been set for February 1, 2016.
"Our members have had enough of this company's lawless, irresponsible treatment," said UFCW Local 770 President Ricardo F. Icaza. "We believe the NLRB's action is reflective of what the workers have been saying – the company is not honoring its obligations to them and is breaking the law.  We are glad El Super will be held accountable for violating the workers rights."
In the face of Court Action and an NLRB trial, El Super returned to union contract negotiations in August of this year, after more than a year of refusal. However, workers and their union do not believe El Super management has lived up to its promise to negotiate in good faith – which is in violation of the National Labor Relations Act.
Fermin Rodriguez, a cashier at El Super #13 in South Los Angeles who won back his job with back pay after the NLRB agreed that he was unlawfully discharged for exercising his federally protected rights. "El Super would rather take on its workers and the U.S. Government than show us respect. The latest complaint underscores this company's shameful commitment to disrespecting the people most responsible for its success," he said.
Flora Castaneda, an El Super cashier and a single mother of three said, "All we want is for this multibillion dollar company to raise our wages and working conditions to what other supermarket workers have. We want basic protections including a 40-hour guarantee for full-time workers, fair wages, affordable health benefits, the right to organize without retaliation, and respect. El Super can easily afford these things, but they simply refuse to act responsibly."
In addition to current and past NLRB complaints against El Super, labor organizations in the United States and Mexico have filed complaints with the labor compliance arm of the Organization for Economic Cooperation and Development and under labor provisions in NAFTA.
About the Dispute
Southern California UFCW Locals 324, 770, 1428 and 1167 represent approximately 600 El Super workers employed at seven locations. These low-wage, predominantly Latino workers were covered under a collective bargaining agreement with El Super that expired on September 27, 2013.
El Super is managed by the Paramount, Calif., based Bodega Latina Corp. There are 51 El Super locations in California (43 stores), Arizona (five stores), and Nevada (three stores). El Super is focused on serving Mexican first, second and third-generation consumers. Bodega Latina Corp is 83.36% owned by Mexico-based Grupo Comercial Chedraui (Chedraui). Chedraui operates 221 markets in Mexico. It is Mexico's third largest retailer.