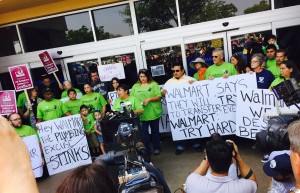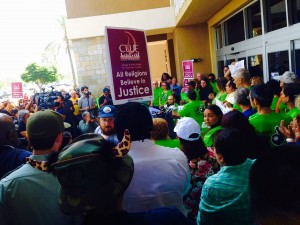 This week, Pico Rivera Walmart workers, along with OUR Walmart, filed a charge with the National Labor Relations Board (NLRB) in response to Walmart's retaliatory store closings. Last week, Walmart abruptly closed five Walmart stores in four states due to an alleged national plumbing emergency. However, city officials point out that the company has obtained no permits to begin repairs in any of these locations. Walmart has failed to offer any evidence of a plumbing emergency that would require the immediate closing of five stores. Among the five stores was the Pico Rivera, California Walmart Supercenter, which has been a hotbed for worker action. The store is also of symbolic importance to the low-wage worker movement, as it sparked the Walmart and fast food strikes when it was the first store to go on strike in October of 2012. Workers from the store also held the first large sit-down strike and participated in civil disobedience in the weeks prior to last Black Friday.
"This is a new low, even for Walmart," said Venanzi Luna, an eight-year Walmart worker and long-time OUR Walmart member. "It's just so heartless to put thousands of your employees out of a job with no clear explanation on just a few hours' notice. We know that Walmart is scared of all we have accomplished as members of OUR Walmart so they're targeting us. Through OUR Walmart, we're going to keep fighting back until the company gives us our jobs back. It's unfortunate that Walmart has chosen to hurt the lives of so many people, just to try to conceal their real motives of silencing workers just like they've always done."
Workers are asking the NLRB to see injunctive relief under section 10j of the National Labor Relations Act. They are calling on the NLRB to compel Walmart to rehire all of the workers who were terminated in all five stores and reinstate them to their own stores or transfer them without loss of pay until they can be reinstated to their stores. A 10j injunction is designed to allow the court to act quickly to remedy such extreme violations without the long delay which is anticipated for NLRB proceedings.
As the filing notes, this is not the first time Walmart has taken dramatic action to quell worker action. In June of 2014, the Canadian Supreme Court ruled that Walmart had violated labor law when it closed the Jonquiére, Quebec Walmart store. The workers in that store had voted to join a union, becoming the first unionized store in North America just before it closed. In 2000, butchers in a Jacksonville, Texas Walmart voted to join UFCW Local 540. Two weeks later, Walmart closed its 180 meat departments in stores nationwide and switched to prepackaged case ready meat only. More recently, Walmart fired and disciplined more than 70 workers who participated in strikes in June 2013. An Administrative Law Judge of the NLRB has found merit to claims against Walmart and additional claims are currently being prosecuted by the General Counsel of the NLRB against Walmart.
Community members and elected officials have also come out in support of Walmart workers. The El Rancho Unified School District, in which the Pico Rivera store is located, will vote on a resolution in support of the laid off Pico Rivera Walmart workers. The resolution "calls on Walmart to consider the economic hardship their decision has caused for their 530 Associates from the Pico Rivera store and their families and commit to transfer all of the Associates to surrounding Walmart stores before new people are hired to fill positions in those stores…"
Workers promised that they would continue to fight the company's retaliatory closures with bold action until the company meets their calls for reinstatement, transfer with equal pay and compensation in the interim and finally, the opportunity to return to their stores when they reopen.