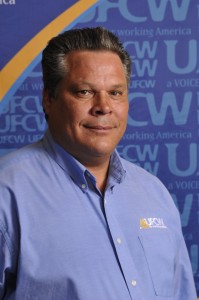 Chad Young, UFCW International Vice President, passed away at home on January 11, 2015. He was 57.
As a young man growing up in Austin, Minnesota, Chad was inspired by his father, Roger, who was an active union member and organizer in the United Packinghouse Workers of America, a predecessor union to the UFCW. Chad was an accomplished Golden Gloves boxer in his youth, and he carried that fighting spirit with him throughout his life as he fought for workers and their union.
His life was driven completely by two words: union and family. And for Chad, those two values were interlocked.  The day he first clocked in to work at Hormel Foods in Austin, Minnesota in 1981, he joined UFCW Local 9 and began his lifelong career as a fighter for his union family. He stepped forward to lead as a union steward at Hormel in 1983 and again, later, as a volunteer union organizer where he worked on a number of campaigns in Iowa and Minnesota during a time of great change in the meatpacking industry. Chad was also part of a team of UFCW organizers who inspired nurses in Washington State to join together in his union.
Chad joined the staff of the UFCW International Union in 1988 and brought his fighting spirit and warm heart to worker campaigns across the country. He played a key role in the early efforts to win a union voice for workers at Smithfield Foods in Tar Heel, North Carolina, serving as a key leader during an election there in 1997.
In 1999, he was promoted to the UFCW International Office as Executive Assistant to the Packing House Director in Washington D.C. In 2005, Chad was named Director of Region 5 – South-central, and was elected as an International Vice President in 2006.  He was reelected in August 2013 at the UFCW International Convention in Chicago, Illinois.
Chad was a true warrior of the labor movement. He loved being a part of the UFCW. He was proud to wake up every morning and fight for working men and women. He was loved by many for his sense of humor, hearty laugh and passion for the union and its members.
Chad is survived by his wife, Lynn Young, his mother Esther Young, daughters Heather Young, Ashley Young, Jamie Colbert and Kelly Colbert, sisters Mona Young and Patti Jo Corey and granddaughters Maya and Cameryn. He is preceded in death by his father Roger Young.