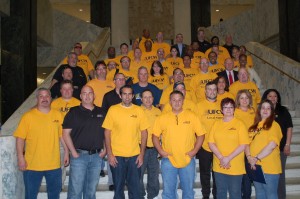 UFCW members from all across New York descended upon the State Capitol in Albany last week to talk with legislators about passing laws that will make life better for working families.
Members pushed for paid family leave, the New York DREAM Act, and a minimum wage increase.
"I'm here because legislators need to hear from regular people who are having regular problems like affording rent and raising our families," said Georgette Wilson, a Local 1500 member who works at Stop N Shop in Hempstead. "It's not right that people in New York who make minimum wage need multiple jobs and endless hours to survive."
With members from 10 different local unions attending, the Statehouse was painted UFCW gold.
"Being here with so many of my brothers and sisters makes me feel strong," said Christopher Holt, a Local 2013 member who works at Grand Manor Nursing Home in the Bronx. "When we unite together we can accomplish so much more than we can alone."
David Isaacson, a UFCW Local 1500 member who works at Pathmark, spoke about the importance of being involved.
"Meeting with legislators is great," he said. "It's important that we're here to support our union and the issues we care about. I would encourage everyone to attend lobby day so that they can see their legislators and share what's on their mind."
Arlette Legree, a UFCW Local 888 member who works at St. Dominic's Home, wants her legislators to do more.
"I came to lobby day to voice my opinion and let legislators know that we expect them to do better," she said. "It isn't fair that too many people are making too little. I want to see increased wages and we can't do that without the support of the people in this building. People need to put food on the table. Being here makes a difference. It's a wonderful experience and I hope more and more people get involved politically."
As the day came to a close, a vast majority of attendees were already looking forward to next year's lobby day.
John Kubinski, a UFCW Local 1500 member who works at Shop Rite in Staten Island, spoke passionately about how he hoped next year's lobby day would be even bigger and better.
"It is imperative that our elected officials hear from us," he said. "They hear enough from big business and corporate lobbyists. They need to hear more about the problems that regular people are having. It's not THE government – it's OUR government. It won't get better unless we band together and take an active role in how it functions. The decisions of our legislators affect all of us."