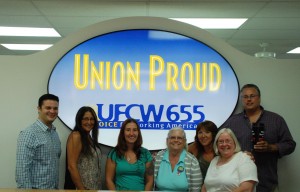 Throughout the summer, UFCW Locals 2, 88, and 655 engaged in an aggressive community effort to sustain Governor Nixon's veto of right to work legislation.
The locals hosted teletownhalls, released a series of informative flyers and share graphics about the right to work veto session, and hosted phone banks that called into targeted legislative districts.
A team of eight members from UFCW Local 655 (pictured) spent the past two and a half weeks canvassing these targeted areas to further increase community support. In total, they knocked on more than 2,800 doors and collected more than 1,100 postcards from people in these areas who wanted to personally encourage legislators to defeat this unfair law.
Here's what members in Missouri had to say about why they fought so hard for this victory.
"I canvassed, phone banked, and went to the Capitol because I wanted to show legislators, especially those who crossed party lines to stop right to work, that we have their backs. This law is bad for everybody in Missouri – we don't want to become a low-wage right to work state. I was happy to work hard these last few weeks to help legislators and members of our communities realize that."
-Raylene Barton, Cashier at Dierberg's in Brentwood  
"Passing a right to work law in Missouri would only increase the lower class. We need to stop this law so that we can focus on lifting up people and making things better for the middle class."
-Cheryl Goodland, Cashier at Dierberg's in Jennings
"There is so much outside, special interest money pouring in that supports right to work legislation. We were committed to being active and visible in the community because it helps legislators understand that everyday people in Missouri do not support this law. The bottom line is that right to work will lower incomes across the state. This isn't a union issue, it's an issue for everyone in and fighting to be a part of Missouri's middle class. We won because people understood that."
-Lori Gianneli, Cashier at Schnooks in St. Charles
"This unfair law was created to break the middle class. Legislators need to stop this nonsense and put money towards fixing our infrastructure and schools. Because those things will actually help us. Right to work legislation just hurts us all."
-Trish Medina, Cashier at Dierberg's
"We won this fight because we made sure legislators and people in the community understood that right to work would lower salaries and hurt so many people who are already struggling. People need jobs that pay more, not less."
-Janice Wetherall, Cashier at Schnooks in Imperial
"This fight was all about sustaining the middle class. If right to work passed in Missouri, everyone who works here would be put at a disadvantage because they'll have to deal with lower pay and fewer benefits. I'm proud that my job allows me to make a living. This unfair law would have just welcomed in low-wage jobs that don't pay people enough to survive."
-Scott Eschenbrenner, Dierberg's in Manchester
"The bottom line is that passing right to work would create bad jobs that are bad for everyone in Missouri. We fought hard so that legislators and community members understood that people in our state deserve better than this unfair law."
-Susan Bone, Schnooks in Festus