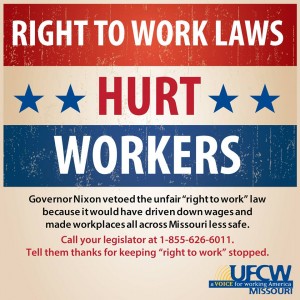 Earlier this year, the Missouri legislature passed an anti-worker "right to work" bill. Fortunately, the bill was vetoed by Missouri Governor Jay Nixon, but on September 16, the legislature will convene a special session where they will attempt to override the Governor's veto.
In order for the veto to be overridden, 17 House members and two Senate members will need to switch their vote on the "right to work" bill. UFCW members in Missouri are fighting hard to sustain the veto with an aggressive online and worksite campaign that informs people about the dangers of "right to work" legislation.
This week, 17,500 UFCW members in Missouri were called to participate in a teletownhall with Governor Nixon. While on the call, members from UFCW Locals  2, 88, 655, and 2008 engaged with the Governor over where this unfair law came from, why it's bad for workers in Missouri, and how they can fight it.
All four UFCW locals are planning to go to the Capitol in Jefferson City next month to help show legislators that hard-working families in Missouri do not support a "right to work" law that will lower wages and benefits across the state.