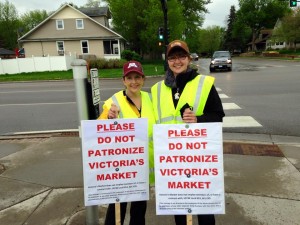 UFCW Local 653's picket line at the Glen Lake Market in Minnesota ended with the news that the store is being bought by union grocer Lunds & Byerlys. UFCW Local 653 has a long-standing good relationship with Lunds & Byerlys and workers at the store will have a union voice on the job.
The pickets first went up in June 2015 outside of the two grocery stores, Glen Lake Market and Victoria Market. Both sites formerly operated as Fresh Seasons Markets. When Fresh Seasons Markets in Victoria and Glen Lake, Minnesota, closed a year ago, owner Tom Wartman failed to pay his employees the vacation and personal-holiday pay they had earned. Now, the stores in Victoria and Glen Lake have reopened under slightly changed names and the former Fresh Seasons workers are still not getting paid what they're owed. Wartman is still profiting from the buildings he owns.
While the picketing at the Glen Lake store has ended, the picket outside the Victoria Market stores continues. Wartman still has yet to make good on the unpaid vacation and holiday pay and the the unfunded pension liability. "We will continue picketing at Victoria's Market. This is good news, but it doesn't make any of the rest go away," said UFCW Local 653 President Matt Utecht.
Along with picket lines, workers from UFCW Local 653 took their fight online to tell the public their stories in an effort to convince Wartman and Fresh Seasons to do the right thing. They also launched a website and took out newspaper ads to encourage the community to support them.