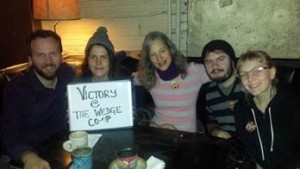 Last Monday, workers at Wedge Community Co-op in Minneapolis voted to form a union with UFCW Local 1189, making it the first co-op grocery in the Twin Cities area, home to many co-ops, to unionize.
The Wedge employees began their union drive last December because they wanted to unionize in order to make their jobs sustainable and mirror the values at their workplace, which promotes a sustainable food system. The co-op's management had already complied with a neutrality agreement they'd signed with unionized warehouse workers. "It was really a worker-driven thing," Local 1189 Organizing Director Abraham Wangnoo said of the recent victory. "You could just see the excitement in a lot of the people who'd been part of this whole thing." He added that the workers wanted to be able to "maintain a voice on the job and a sense of control and leadership in the operation of the co-op."
Once the results of the election are certified by the National Labor Relations Board, the 136 grocery workers will be part of the UFCW union family
A union drive at the Wedge Table, a cafe and market in the area that is also owned by the Wedge, is still ongoing.