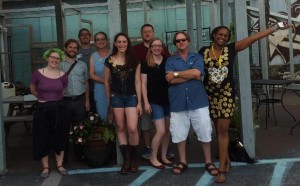 Workers at Bloomingfoods Co-op in Bloomington, Ind., have voted overwhelmingly to ratify their first union contract as members of UFCW Local 700.
Bloomingfoods workers successfully negotiated a contract that ensures fair wage increases, a process for resolving workplace issues, and a voice for all workers in the cooperative.
Following an accelerated, fair election process marked by company neutrality and community involvement, Bloomingfoods workers voted last November to form a union. About 250 workers across five Bloomingfoods Co-op grocery stores and a commissary became UFCW Local 700 members.
"Bloomingfoods is part of what I love most about Bloomington," said Casie Jetter, a Bloomingfoods commissary worker. "I want the co-op to remain strong and successful so that my daughter can some day shop at the same co-op that has remained a staple in our community. Bringing a union to Bloomingfoods will put our co-op one more step ahead of competition in an increasingly competitive market."