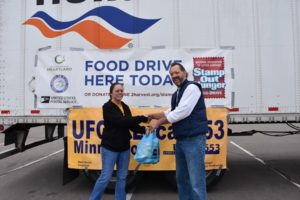 This year, the UFCW continued to address hunger in America and raise funds to help find a cure for blood cancers.
Our union served as a national partner of National Association of Letter Carriers' (NALC) 27th annual Stamp Out Hunger Food Drive—the largest single-day food drive in the world. In the weeks leading up to Saturday, May 11, our union family helped to collect millions of pounds of non-perishable food made by union members for local food banks in more than 10,000 cities and towns nationwide. Next year, the UFCW will also once again partner with the NALC to sponsor the 28th annual Stamp Out Hunger Food Drive, which will take place on Saturday, May 9, 2020.
Our union also continued to raise funds for people suffering from blood cancers like leukemia, lymphoma, Hodgkin's disease, and myeloma though the Labor Against Cancer Initiative, which builds on our over 30-year partnership with the Leukemia & Lymphoma Society. To date, we have raised over $86 million to help fund research that has advanced treatments such as chemotherapy, stem cell transplantation, and smart drugs, which have become the standard for many other cancers.
Here are a few articles about these important initiatives that appeared in OnPoint this year:
UFCW Continues Support of America's Largest Food Drive in 2020
Help Make LLS Light the Night a Success
One Simple Way to Give Back to Your Community – Stamp Out Hunger
UFCW Locals Give Back to Their Communities During the Holidays