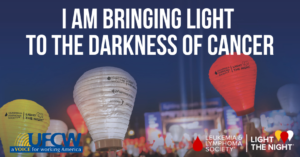 The UFCW has been a proud partner of the Leukemia & Lymphoma Society (LLS) for decades, supporting the work of the world's largest voluntary health agency dedicated to discovering breakthrough therapies and cures for people suffering from blood cancers.
In the past 37 years, our union has raised over $86 million for people suffering from blood cancers like leukemia, lymphoma, Hodgkin's disease, and myeloma. One of the key ways many of our members raise critical funds to support advances in blood cancer treatments is through LLS's Light the Night walks, which will occur at locations across the country starting in September.
"We all know someone who's been impacted by blood cancer," said UFCW Local 663 President Matt Utecht. "Together, we have the power to bring us closer to ending cancer. Participating in your local Light the Night event is a great way to continue our efforts as a union family to care for our communities. I encourage each and every local to get involved."
Kenny Newsom, a UFCW Local 1059 member who works nights as a building maintenance electrician at the General Mills plant in Wellston, Ohio, has been setting aside time during the day to use his carpentry skills to build furniture that he donates for the yearly UFCW Local 1059 auction to benefit his local's Light the Night event.
"It's been four years now," said Newsom. "One year, I was making an Ohio State table – it's got the block "O" and buckeye leaf and all that in it. My union rep. stopped by one day while I was working on it in my workshop and I said, 'Hey, would Randy (the President of Local 1059) like to have this to auction off for Light the Night?' And that's how it got started."
"Supporting LLS is close to my heart as I lost my stepfather to lymphoma," said UFCW Local 1189 President Jennifer Christensen.  "There wasn't a cure for his cancer, but through the efforts of my union – the UFCW – and their fundraising efforts and the research work that LLS does and has done, we have found cures for others. LLS continues to save lives every day.  People like my friend Dean Nelson, a member of our Union's Executive Board (and my coworker when I worked in the grocery stores) is alive today because of the miracles achieved through research, and the discovery of his life-saving medication."
You can find information about a LLS Light the Night walk near you, register your local's Light the Night team or set up your own team of walkers here.