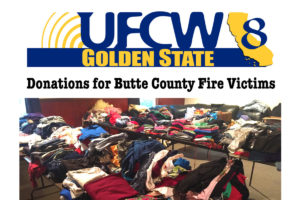 This year, the UFCW made an impact on thousands of lives by addressing hunger in America, helping to find a cure for blood cancers and standing with members of our union family in the aftermath of a tornado, a fire and other disasters.
Once again, the UFCW served as a national partner of National Association of Letter Carriers' Stamp Out Hunger Food Drive—the largest single-day food drive in the world. In the weeks leading up to Saturday, May 13, our union family helped collect millions of pounds of non-perishable food made by union members for local food banks. The UFCW has served as a national sponsor of the NALC's Stamp Out Hunger Food Drive for the past three years. In that time, the food drive has collected more than 150 million pounds of food.
The UFCW continued to expand on last year's launch of the Labor Against Cancer initiative in the battle to end blood cancers. This initiative builds on our 30-year partnership with the Leukemia & Lymphoma Society to fund and support some of the world's best and brightest blood cancer researchers to cure leukemia, lymphoma, Hodgkin's disease and myeloma, and improve the quality of life for patients and their families. To date, we have raised over $86 million to help fund research that has advanced treatments such as chemotherapy, stem cell transplantation, and smart drugs, which have become the standard for many other cancers.
This year, our union family also helped out members who were affected by Camp Fire in California and the tornado in Iowa. In addition, we donated time, resources and money to spread a little cheer during the holiday season.
Here are a few examples of the ways the UFCW gave back to communities across the country this year:
Standing With Our Union Family in California
http://forlocals.ufcw.org/2018/12/03/standing-with-our-union-family-in-california/
UFCW Members Celebrate Thanksgiving by Giving Back to Their Communities
http://forlocals.ufcw.org/2018/11/26/ufcw-members-celebrate-thanksgiving-by-giving-back-to-their-communities/
Help Make Labor Against Cancer Donation Drive a Success
http://forlocals.ufcw.org/2018/09/10/help-make-labor-against-cancer-donation-drive-a-success/
UFCW United Latinos Empower Workers in Puerto Rico
http://forlocals.ufcw.org/2018/08/27/united-latinos-empower-workers-in-puerto-rico/
Helping Tornado-Stricken Workers in Iowa
http://forlocals.ufcw.org/2018/08/06/helping-tornado-stricken-workers-in-iowa/
UFCW Helps to Stamp Out Hunger in Communities Across the Country
http://forlocals.ufcw.org/2018/05/14/ufcw-helps-to-stamp-out-hunger-in-communities-across-the-country/
Help Make This Year's Stamp Out Hunger Campaign a Success
http://forlocals.ufcw.org/2018/04/02/help-make-this-years-stamp-out-hunger-campaign-a-success/
Locals 1189 and 653 Hold Labor Against Cancer Event With Union Retail Grocers in Minnesota
http://forlocals.ufcw.org/2018/03/19/locals-1189-and-653-hold-labor-against-cancer-event-with-union-retail-grocers-in-minneapolis/
Local 1149 and JBS Donate to Local Schools in Iowa
http://forlocals.ufcw.org/2018/01/22/local-1149-and-jbs-give-back-to-marshalltown-community-school-district/