On March 15, UFCW Locals 1189 and 653 joined together with representatives from the Leukemia & Lymphoma Society (LLS) and union retail employers in Minneapolis to kick off their Labor Against Cancer retail campaign.
The event, which took place at the LLS office in Minneapolis, drew attention to Labor Against Cancer's mission to fund and support some of the world's best and brightest blood cancer researchers to cure leukemia, lymphoma, Hodgkin's disease and myeloma, and improve the quality of life for patients and their families. UFCW Local 1189 member, steward and executive board member Dean Nelson, who works at Cubs Foods Midway and is a leukemia survivor, spoke with media representatives and attendees at the event. UFCW Local 653 honored hero and executive board member Mike G. was also recognized at the event as a non-Hodgkin's lymphoma survivor, and Local 653's Sandy Sjoberg told her non-Hodgkin's lymphoma survivor story at the event, as well.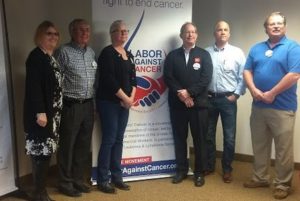 UFCW represented retail employers in Minnesota, including Cooper's, Cub Foods, Jerry's Cub Foods, Jerry's County Market, Jerry's Foods, Kowalski's Cub Meadowlands, Lunds & Byerlys, Oxendale's Market, Almsted's, Radermacher's Cub, Quisberg-owned Cub Foods in Brainerd and Baxter and Pequot Lakes Supervalu will be sponsoring the point of sale fundraising for Labor Against Cancer at its stores, encouraging their customers to donate $1 or more at checkout on March 17 to March 31.