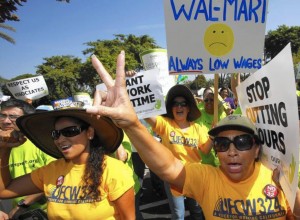 On September 10, Walmart workers, with the help of the UFCW, Making Change at Walmart, and OUR Walmart, announced at a press conference that they had filed a second charge against Walmart with the National Labor Relations Board (NLRB) regarding the retaliatory closing of the Pico Rivera, Calif., Walmart store. In the charge, workers allege that they were discriminated against in the transfer process due to their participation in protests standing up for better wages, hours and work conditions.
"When Walmart closed our store, I knew it was because we had been leading the nationwide movement for $15 an hour and access to full-time, consistent hours," said Jenny Mills, a nine-year Walmart worker, who was listed on the charge. "Seeing who they did and did not transfer just reaffirmed that. Walmart intentionally refused to transfer those of us who have been the most vocal in standing up for fair wages and hours. That's simply not just a coincidence."
The workers were joined at the conference by community leaders, clergy and city residents calling for the reinstatement of all 530 laid off Pico Rivera Walmart workers. Despite the fact that there are 45 Walmart stores within 20 miles of the closed Pico Rivera store, Walmart has failed to transfer the most vocal workers in the fight for $15 an hour and access to consistent, full-time hours since the closure back in April.
The workers' second charge comes as the first charge, alleging that Walmart closed five stores nationwide as an act of retaliation, is under investigation by the NLRB. On April 13th, the company abruptly closed stores with just hours' notice, including the Pico Rivera Walmart store, which was among the most vocal and symbolically important stores in the movement for better wages and hours.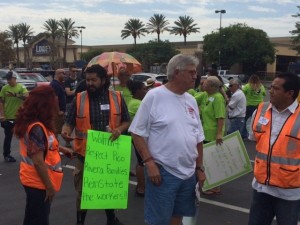 The store has been a hotbed for worker activism. A powerful group of primarily Latina women led the first Walmart strikes there prior to Black Friday in 2012. They held a sit-down strike and civil disobedience there last fall and have also been vocal in the fight for $15 an hour and access to full-time, consistent schedules. Based on the initial charge on April 20th, the NLRB has compelled Walmart to provide evidence that its store closings were actually related to "plumbing problems" as it initially claimed. Workers are hopeful that the initial charge will result in their reinstatement with back pay under what labor law refers to as a "10j injunction" while the Board continues to pursue the charge.
"Punishing workers by denying them a livelihood in this fashion isn't only legally wrong; it's morally wrong," said Rabbi Jonathan Klein, executive director of Clergy and Laity United for Economic Justice. "Brave workers entitled to a better life for their families now face spirit- and body-crushing stress because of Walmart's unconscionable choice. We cannot let such injustices prevail. We must hear the voices of those fighting for what is right."