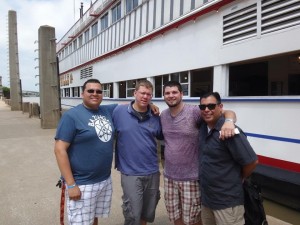 This week's story comes from four UFCW Gold Interns: Will Reynolds Young from UFCW Local 23; Henry Lima from UFCW Local 770; Cody Lee for UFCW Local 1000; and Adrian Alvarez from UFCW Local 1442.
Through the UFCW Gold Internship Program, our group was given the opportunity to work with UFCW Local 227 on a "right to work" campaign.
"Right to work" is a piece of legislation designed to weaken the resources unions have to protect workers. In other words, it is a union buster. This bill is a deceiving potential law that only leads to lower wages, fewer benefits, and more dangerous working conditions.
We have been working hard to reach out to our fellow brothers and sisters to inform them of the dangers of "right to work." We have had very positive responses and expect a great turnout to our town hall meeting on July 30 at the UFCW Local 227 office. Hosting a town hall meeting is an important event because every one of our members has the right to know the truth about "right to work." At the meeting, we plan on having a panel of speakers that can elaborate on important issues relating to "right to work." Local media will also be present to aid in the outreach so more people will know about this issue.
The best part of the internship is how inclusive and passionate everyone is about working on this project. Spending time with our new brothers and sisters at UFCW Local 227 has been a remarkable experience that we will all remember and cherish for the rest of our lives.
This internship is without a doubt a life changing venture that none of us will ever forget. We would also like to thank our newfound family we have created at UFCW Local 227 for the opportunity to help preserve Kentucky's free bargaining power. Without the free bargaining power that "right to work" states do not have, our union cannot stand up for the workers' rights and needs. If "right to work" is passed, as a union we can't be nearly as effective as we could be in a free bargaining state, such as Kentucky. Helping UFCW Local 227 attempt to curb "right to work" laws was truly challenging, exciting, educational, and memorable.
4

Responses to "On the Ground with Gold Interns: Fighting "Right to Work" in Kentucky"
Jake Shafer

Jeff pleasant