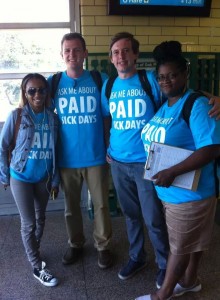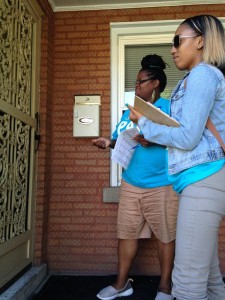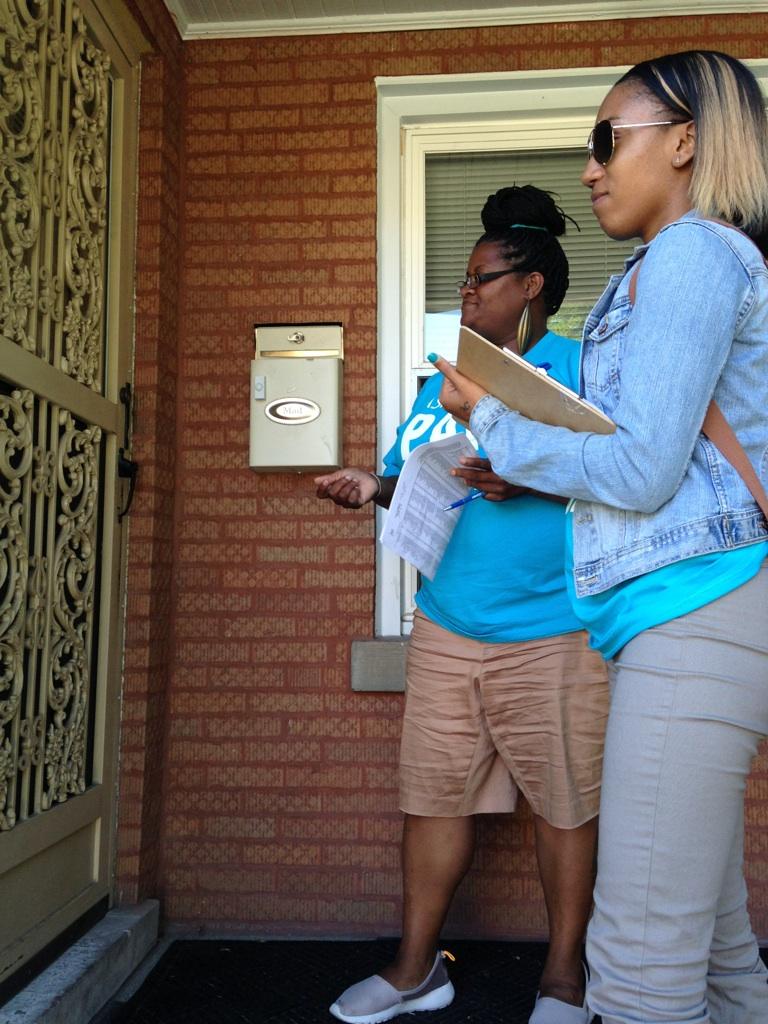 By Erica Clemmons, Local 1059, Earned Sick Days Ordinance Campaign, Chicago
The purpose of my GOLD action project is to make people aware of an ordinance being debated in the Chicago City Council which will allow all employees to earn paid sick time off.
I was happy to be assigned this project because the impact of passing a paid sick time law is profound. It's ridiculous that employers in Chicago are penalizing their workers for taking timeoff when they're sick. Forcing someone to choose between paying rent or risk coming to work and infecting others is wrong.
I'm working on this project with Andrew Rediford (UFCW Local 227), Erica George (UFCW Local 1776), and Thomas Donoghue (UFCW Local 1245). When the four of us started this project, not really knowing how much of a concern this was to the citizens in Chicago, we were focused on facts and figures.
We read about the issue and talked about it with the members of UFCW Local 881. Nothing prepared us for the conversations we would have with the women and men that this directly affected. We quickly realized that the personal stories we heard on the street would be the key to winning this campaign.
My entire project team comes from different backgrounds, but we have come together as one voice and hit the pavement with one mighty sound. Through hand billing and canvassing for signatures we have reached mass numbers of residents in Chicago.
Many of the people we meet are unaware that this ordinance was even being considered. Most people we talk with are affected by the lack of paid sick time and are ready to stand up for what is humanly right and encourage its passage.
Part of our canvassing includes talking with businesses and asking them about their feelings towards providing earned paid sick time to their employees.  Unfortunately, we have heard more negative than positive responses from them.
Many employers feel that this should not happen, and often tell us that if a worker cares about their job they will simply come to work. My response to business owners who tell me this is simple, "As you drink from your mocha cappuccino, handmade from an employee at Starbucks, are you comfortable knowing that worker may have been forced to come to work sick today to make your drink?" It's a disgusting germ-filled thought, but it's the reality.
My team and I have gathered hundreds of signatures. Block by block, business by business, we are convincing workers, business owners, and the mayor himself that earned paid sick time will make Chicago healthier and more productive. I'm looking forward to working as hard as possible throughout the next few weeks to ensure this ordinance passes.