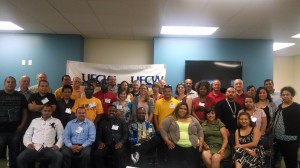 Last week, staff and activists from UFCW Locals 75, 99, 230, 431, and 770  participated in a training to learn how to help UFCW members and their families become U.S. citizens.  The UFCW, in partnership with the National Partnership for New Americans are working together with legal experts across the country to provide the trainings to local unions across the country.
The training took place at UFCW Local 431 in Davenport, Iowa. It is the second in a series of immigration and citizenship workshops hosted by UFCW staff and community partners such as the  Quad Cities Interfaith Coalition, Catholic Diocese of the Quad Cities, and Eastern Iowa Center for Worker Justice. Over the course of the three day training, staff learned about the naturalization process and how to take what they learned and set up processing workshops at their own locals.
"It was valuable to sit down and go through the whole procedure for naturalization to help workers become citizens and Deferred Action for Childhood Arrivals (DACA) to help youth obtain employment authorization and protection from deportation. With a union they have a voice on the job and with citizenship and the right to vote their voice will be heard beyond that," said Anthony Garcia from UFCW Local 431.
The first day of training focused on the importance of workers becoming citizens; naturalization requirements and pre-screening procedures; walking through the actual forms and paperwork, and waivers and exemptions from testing and process fees. The second day focused on strategies to mobilize members to naturalize and encouraging naturalized citizens to become advocates. Members also learned about DACA and how to organize a DACA workshop. The training wrapped up with a continuation of member mobilizing and legalization preparation for workshops.
"I wanted to come to the training because we have a lot of people at our local who could become citizens, especially through DACA. I want to take back what I learned these past few days and be a resource to help members through the naturalization process because it can be very complicated and confusing," said Joyce Vazquez from UFCW Local 230.
Locals who are interested in more information or would like to host a training can contact Eduardo Pena at epena@ufcw.org.