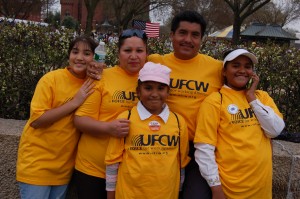 On November 19, the UFCW's immigration program was honored by the Miguel Contreras Foundation at their annual awards ceremony in Los Angeles, Calif.
Representing workers from all walks of life, the UFCW has seen the devastation caused by our broken immigration system. From ICE raids in meatpacking plants, to the endless threat of deportation, our members and immigrant communities across the United States have and continue to be subjected to the perils of inaction by those who are supposed to represent us. On the job or at home, hard-working men and women have been failed by our elected officials to offer the most basic protections so that they can live and work without fear.
Congress has yet to pass legislation, but the UFCW is not sitting back and waiting for politicians to act. Under the leadership of International President Marc Perrone and Executive Vice President Esther Lopez, the UFCW is proud to lead the fight for immigration reform through two signature immigration programs which reach all levels of the union and our nation. The first, known as Union Citizenship Action Network or U-CAN, provides members a platform to learn from seasoned immigrants' rights advocates about the critical skills and tools needed to go through the naturalization process and become U.S. citizens. The second program is designed to help UFCW members prepare their applications for DAPA.
Even though a lawsuit spearheaded by anti-immigrant governors and attorneys general has put the deferred action programs on hold, UFCW local unions continue hosting workshops to help members determine whether they qualify for citizenship or deferred action, gather necessary documentation, prescreen their applications, and answer important legal questions. The UFCW is committed to ensuring that when a legal ruling on DAPA is finally rendered, UFCW members will be first in line to apply.
It is this commitment to the rights and opportunity of all hard-working men and women that the UFCW family was honored at the Miguel Contreras Foundation 2015 Annual Awards Celebration. The UFCW is proud to accept this award and is committed to fighting for the rights of all hard-working men and women.