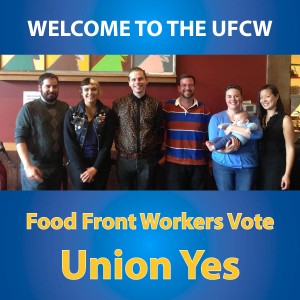 Workers at Food Front Co-op stores have voted to join UFCW Local 555. After an overwhelming vote in favor of joining the union, 91 workers will become members of UFCW Local 555.
Food Front Co-op has two stores in the Northwest and Hillsdale neighborhoods of Portland, Ore. With more than 10,000 member-owners, democratic governance is a foundational value at Food Front. As union members, store workers will now have their own democratic voice in the co-op.
"We are the union at Food Front," said Russell Kwong. "Our union will help assure customers that we are treated fairly and that the co-op is run democratically. Improving our standards at the co-op benefits employees, customers and owners — and subsequently the whole community."
For Food Front workers, a union voice on the job reinforces the collaborative values that brought them to the co-op. In the coming weeks, workers will sit down with management to negotiate a first contract that solves existing problems and improves working conditions.
"The bottom line is that we wish to be respected, heard, treated equally and most of all supported," said Kira Davis, a store worker. "I believe that creating our union can help strengthen us. As a union, we will empower everyone through education, communication and action."