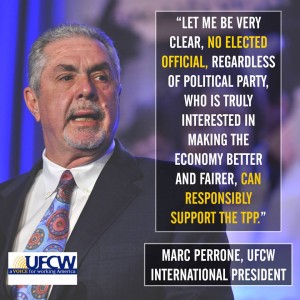 UFCW International President Marc Perrone today released the following statement after the Senate failed to advance fast track legislation.
"All across this country, hard-working Americans from every political stripe have sent a message loud and clear—no more trade deals that destroy American jobs and families. The failure of the Senate to advance fast track legislation is not only a stinging defeat for supporters of the Trans-Pacific Partnership (TPP); it makes clear that the American people will not be fooled into supporting another bad trade deal.
"Just a few weeks ago, all of the pundits believed that fast track and the TPP were a lock to pass: they were wrong. Our 1.3 million members, the entire labor movement, progressive Democrats, and conservative Republicans have all stood up and spoke out against this disastrous trade deal. More importantly, this is what is possible when we all stand together and fight for what is right for our families, our jobs, and our nation. While this battle is far from over, we can only hope that President Obama and every TPP supporter hears the voices of the American people and understands that this is a fight they cannot and should not win."
In today's Washington Post, UFCW International President Perrone also lays out the case against fast track and the Trans-Pacific Partnership (TPP). Workers "deserve good wages and benefits, fair and reliable schedules, respect on the job and a secure retirement—none of which would come from the Trans-Pacific Partnership trade agreement," he writes. "The truth is that no elected official truly interested in making the economy better and fairer can support the Trans-Pacific Partnership," Perrone continues.  "The Washington and Wall Street establishments say this deal will be different. It will not be. So the labor movement, workers and all those who want a fairer and more just America should not be fooled into supporting it."
Last week, UFCW Local 555 President Dan Clay took issue with President Obama's visit to the Nike headquarters in Oregon to rally support for the TPP. "It is very disappointing to see President Obama push a trade deal that will hurt hard-working Oregonian families," Clay said in the Portland Tribune. "To do so by visiting Nike, a company with a long history of sending jobs overseas and exploiting workers is a complete insult. Support from companies like Nike and Wal-Mart shows how terribly flawed this trade deal really is. At a time when we need good jobs and growing income, we are being told to believe in another flawed trade deal, and ignore the self-centered agendas of politicians and irresponsible corporations."
With votes on fast track expected to come up again, it is more important than ever to let your members of Congress know where you stand. Click here to send them an e-mail.