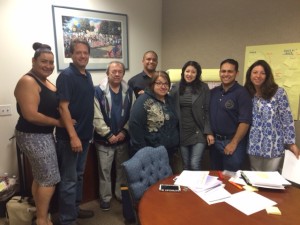 On May 18th, 11 SoCal Gas chemical worker member leaders and one staff representative from UFCW Locals 350, 478, and 995 came together for a one-day member activism training.
Along with discussing new internal organizing strategies, they practiced a variety of approaches for welcoming new workers and sharing contract information. A series of role-play activities allowed the members to feel more confident in their ability to connect with other workers, even though they don't have a shared workplace and are spread out across a wide geographic area.
The day after the training, the participants were able to try out their new communication skills at a new hire center in Pico Rivera, Calif. There, UFCW/ICWUC members had the opportunity to explain to new workers the importance of joining a union and what it means to have a voice on the job.
The training participants are already at work condensing their training into an hour-long piece on recruitment and organizing that they will add to future steward trainings.
Ramiro Caro, a participant at the training explained, "Our recruiting efforts at SoCal Gas are essential in building chemical worker power. Preparation is a key to successful organizing. As union members, we need to teach our coworkers the importance of building active members."
SoCal Gas is the nation's largest natural gas distribution utility, that provides to 21.4 million consumers in more than 500 communities throughout Central and Southern California.