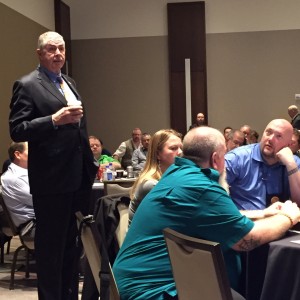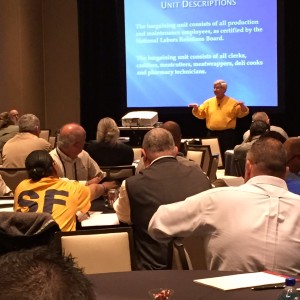 Local union leaders and staff from around the U.S. and Canada are gathering in Chicago, Ill., today for a Retail Conference focused on organizing and bargaining in the retail and retail food sectors.  Participants are breaking out by company and by region to create region-wide and company-wide organizing and bargaining strategies. Participants are also attending workshops on contract language, right to work and union shop servicing, pension funds, communications, and health and welfare funds.
"I think bringing everyone together so that we can rebuild our strength in retail is a great idea. It's long overdue," said Mia Contreras, Membership Action Director at UFCW Local 21.
"Being in the workshops and listening to other locals strategies is a learning experience. When you hear people talking about new things, you feel like it's something you could put in practice at your own local. At the same time there is a lot of things we are doing well. I hear a lot of different locals talking about strategies and tactics that are working – like working together with community organizations – where we are very successful. The UFCW is a big family – and it's great to hear what works well, and also it is also great that we are working together in creating new strategies to grow the union and build a better future for our members. This is what this is conference is about," said  Joseph Dorismond, Recorder/ Organizing Coordinator, RWDSU.