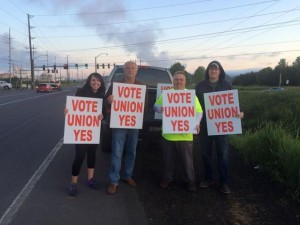 Chemical workers at Axiall Corp.'s plant in Longview, Wash., have voted in overwhelming numbers to join ICWUC/UFCW Local 747. Axiall employees first approached the union several months ago about having a voice on the job. There are about 40 workers at the plant. Their priorities for their first contract include more transparent work rules and improved job benefits. Workers are now in the process of choosing representatives for a bargaining committee before contract negotiations start. About 80 workers from the nearby Emerald Kalama Chemical are also members of the local and will be able to help support Axiall workers during bargaining.
"This is what labor is all about.  We are always stronger and can serve our members better when our numbers are greater," said Frank Cyphers, President of the ICWUC/UFCW.
Axiall Corp. is a chlorine vinyl chemicals manufacturer and has 6,000 employees spread across four countries. Workers at at least two of its plants, one in Louisiana and one in Virginia, are already are part of a union.