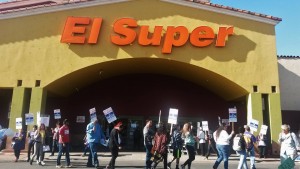 On the day before Thanksgiving, El Super workers at seven unionized locations in Southern California decided to strike the company over unfair labor practices. Picket lines were established at 4 a.m. asking consumers to do their Thanksgiving shopping elsewhere.
El Super union members have been working without a new and fair contract since September 2013.
In the face of court action and a National Labor Relations Board (NLRB) trial, the company returned to the table in August of this year, after more than a year and half absence. They returned, however, to engage in bad faith bargaining in violation of federal law.
El Super has refused to respond to repeated requests for information critical to "good faith" negotiations.  The company's unfair labor practices include its failures to process grievances, to give information necessary to enforce standards such as sick leave, and to provide the union with information necessary to good faith bargaining over key issues, including healthcare.
In response to its unlawful behavior, UFCW members who work for El Super have elected to exercise their right to go on an unfair labor practice strike to protest this company's deplorable behavior.
"El Super's Mexico-based parent company – Grupo Comercial Chedraui – made over $100 million in profits last year," said UFCW Local 770 President Ricardo Icaza. "UFCW members contributed greatly to the company's success and we authorized this unfair labor practice strike because it's high time that El Super stopped its unlawful stalling tactics and sat down in good faith and negotiated a contract that rewards our members for their hard work."
Wednesday's strike occurred one week after a dozen people were arrested during a nonviolent civil disobedience in front of El Super's East LA store. The day after the arrests, El Super resumed negotiations with UFCW for two days, but the company continued to unlawfully deprive the union of information key to bargaining progress and our union members' core concerns.
Fermin Rodriguez, a cashier at El Super Store #13, who won back his job with back pay after the NLRB agreed that his termination violated federal law, said, "For more than two years, my coworkers and I have been fighting to win a 40-hour guarantee for full-time workers, adequate paid sick leave, seniority protections, fair wages, affordable health benefits, the right to organize without retaliation, and respect. We wanted to achieve a fair contract at the bargaining table without a strike, but this company persists in unlawful conduct denying us of our rights under federal law. El Super only responds to direct pressure. El Super workers will not tolerate any more of the company's illegal behavior."