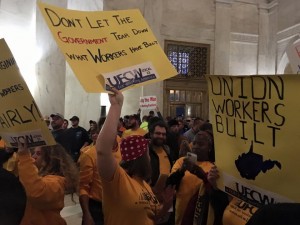 Marc Perrone, International President of the UFCW, made the following statement about the West Virginia Legislature overriding Governor Tomblin's veto to pass a "right to work" law.
"The West Virginia State Legislators who supported passing this bill are telling West Virginians one thing – you have the "right to work for less." Simply put, they should all be ashamed of themselves. Rather than helping the hard-working people of their state find good jobs that pay higher wages and provide better benefits, they have chosen to pursue a radical agenda that will devastate countless West Virginia workers and their families.
"Instead of helping raise wages, State Legislators have passed a bill that guarantees lower wages, fewer benefits and more dangerous workplaces. Make no mistake, this only serves to reward irresponsible companies who will do everything they can to pay their workers less. This is true in every state that has passed "right to work" and will sadly be true in West Virginia as well.
"Every American, regardless of the state they live in or their political beliefs, has earned the right to better wages, better benefits and a better life. This bill flies in the face of those rights. Everyone who voted to pass it will be remembered for turning their backs on working families."