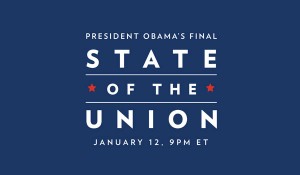 President Obama's final State of the Union is tonight. UFCW members shared what they would like to hear President Obama mention in the #SOTU16.
Rebuilding the Middle Class:
"How is the middle class going to get back to being middle and not lower?"
"Income inequality. Wall Street and banks are destroying the economy except for themselves. Homelessness. Immigration. People need to care."
Trade:
"That he is going to VETO TPP!"
"Fair trade. Stop the TPP #SOTU16"
Healthcare:
"Making sure we keep Obamacare"
Student Debt:
"Student loan crisis for the older millennials–out of college for nearly a decade and crushed by debt."
Raising the Minimum Wage:
"Wage increase across the board."
"$15/hr for ALL working people"
Paid Sick and Family Leave:
"Sick pay for all workers"
Many of members also noted that they want to hear about immigration, the cost of childcare, gun control, and counter-terrorism.
Watch Tuesday night to hear about comprehensive plans for all of these issues and more during President Obama's #SOTU16.