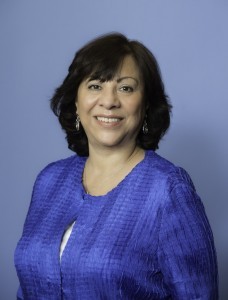 Last week, the UFCW International Executive Board elected Esther López as the new International Secretary-Treasurer. The historic announcement reflects the commitment by the UFCW, as the largest private sector union with 1.3 million members, to building a diverse and strong union family.
Esther López is a leading champion of hard-working men and women, and has worked tirelessly for decades on behalf of immigrants and all families seeking a better life. López has helped lead the UFCW's groundbreaking outreach effort to the Latino and immigrant communities, and is recognized as a national leader in the areas of immigration reform, as well as civil, human, and labor rights.
"To become a better and stronger union family, I have been absolutely committed to building a diverse and inclusive union. It is why I'm so proud to announce that the UFCW International Executive Board elected Esther López as our union family's new International Secretary-Treasurer. Esther is a tireless advocate for the rights of all hard-working men and women. Esther believes, as I do, that our nation's diversity is our strength, that we must grow our union family, and that by working together we will provide a better life to all our incredible members," said Marc Perrone, International President of the United Food & Commercial Workers Union.
In accepting her position, López said:
"I am truly honored to be elected as the International Secretary-Treasurer. This union and our members are my family. Doing everything I can to improve the lives of hard-working families, and provide them with the better life they've earned, has been my life's mission. It is why the UFCW's commitment to building a stronger and more diverse union family is so important. It inspires me to never stop fighting to better the lives of our members, and those who deserve to be our members. Under Marc's leadership, and as part of this incredible UFCW team, I'm more optimistic than ever about the future of our great union family."
Throughout her career, López has been a champion of the rights of all workers – regardless of where they come from or where they were born. To help provide hope to immigrant workers, López launched a groundbreaking program to ensure eligible UFCW members were first in line to apply for citizenship. Prior to that, she spearheaded the Union Citizenship Action Network, also known as UCAN, to help UFCW members become naturalized and get on the path to citizenship. López was the lead staff person on the UFCW Commission on ICE Enforcement that highlighted civil rights abuses in the 2006 Swift raids. All along, López has never lost focus on the broader goal of giving aspiring Americans the chance to become citizens and ensuring all workers and their families are protected from exploitation.
López began with the UFCW in November 2006 when she was hired as Director of the Civil Rights and Community Action Department.  In that role, she has helped put the UFCW on the front lines of the most crucial civil rights battles of our time—fighting back against voter suppression, working to end exploitation of refugees from countries like Burma, Sudan and Somalia, creating more opportunities for women, and expanding LGBT equality.
Prior to her career at the UFCW, López played an active role in improving labor conditions within the state of Illinois, serving as Deputy Chief of Staff for Labor, as well as in the governor's cabinet as Director of the Illinois Department of Labor.