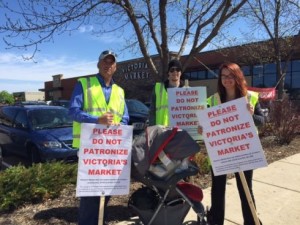 When Fresh Seasons Markets in Victoria and Glen Lake, Minnesota closed a year ago, owner Tom Wartman failed to pay his employees the vacation and personal-holiday pay they had earned. Now, the stores in Victoria and Glen Lake have reopened under slightly changed names and the former Fresh Seasons workers are still not getting paid what they're owed. Tom Wartman is still profiting from the buildings he owns.
Workers from UFCW Local 653 have taken their fight online and are telling the public their stories in an effort to convince Tom Wartman and Fresh Seasons to do the right thing. They've launched a new website and a new newspaper ad to encourage the community to support them and sign a petition saying that millionaire business owners should pay their debts to their loyal workers.
"I think Tom should just pay back the money that Fresh Seasons owes to the people, to his vendors, and to our union," said former Fresh Seasons worker Tamara Schuler. "Until he does that, he shouldn't work to open more stores. It's not only unfair, but who would want to work for him?"
You can show your support for Fresh Seasons workers by signing the petition online at www.TomWartman.info.