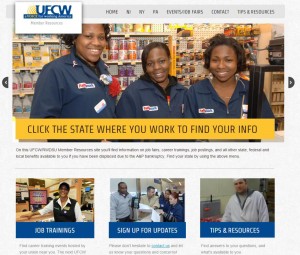 The UFCW and RWDSU have launched a member resource website to provide members who work at A&P with quick access to helpful resources and programs.
To further ensure that workers can obtain the tools they need to get back on their feet, locals will also begin hosting several resource fairs in New York and New Jersey. Local union employers will be on hand at these resource fairs to speak with members about possible job opportunities.
In Pennsylvania, locals will be partnering with the Department of Labor to help host sessions at local career centers that are specifically designed for A&P members.
Dates of all resource fairs and local career center days will be publicized in advance on the website. The first will be held on Friday, October 2 in Little Falls, New Jersey.
These events will offer help with resume writing, job applications, job search, health care information and obtaining new skills. They will also provide in-depth information to members about how to sign up for programs designed to help them and their families.
The state Department of Labor will be on-site at all events to answer questions and provide assistance. Members should feel free to contact their local union if they have questions or would like information about additional resources that may be available to them.