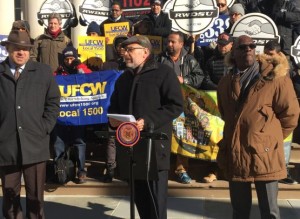 The Grocery Worker Retention Act (GWRA), became law in New York City today. The new law provides for a 90-day transition period to eligible employees following a change in ownership of a grocery store. The transition period is a temporary protection for employees who before faced the possibility of sudden unemployment when their stores changed ownership without notice.
Elected officials, labor and community leaders, and workers gathered to rally in support of the bill before its passage in the morning on the steps of City Hall.  The law was hailed as a common sense approach to bring some stability for workers, consumers and businesses in an industry that often sees rapid changes.
This type of law would have played a critical role in grocery workers' lives during the A&P bankruptcy proceedings last summer. When A&P declared bankruptcy and began selling and closing stores, thousands of UFCW and RWDSU grocery workers were left without any recourse for their years of dedicated service to their communities. Now, thanks to the GWRA, grocery workers in New York City will not have to live in fear of losing their jobs or livelihoods when a store changes ownership.
"Grocery stores often change ownership and when that happens workers can lose their jobs through no fault of their own.  Now, with this bill, workers will have a transition period where they would remain employed for 90 days if their store is purchased," said RWDSU President Stuart Appelbaum. "New owners can't just discard workers, some of whom may have worked for years at the store, in an effort to lower wages.  The bill also protects our communities by maintaining experienced staff that understand proper sanitation procedures and can maintain health standards."
The grocery industry makes up a significant portion of New York City's retail workforce with over 50,000 employees and roughly two-thirds of this workforce coming from immigrant labor. This industry, however, currently suffers from a volatile condition with the eminent merger, closing or the establishment of new ownership of our supermarkets jeopardizing the future of workers and the quality of life of countless communities.
"Grocery and food retail workers are a vital part of our neighborhoods. We applaud the City Council for taking necessary steps to expand displaced worker protections to the men and women working in the food retail industry, as well as providing stability to the communities in which they proudly serve," said John Durso, President of UFCW Local 338, which represents thousands of supermarket workers