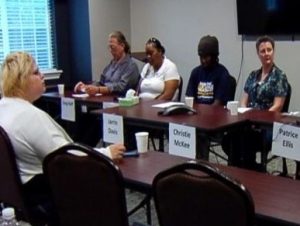 On June 3, Walmart worker Margaret Hooten and former Walmart customer Jason Cooper Grabb gave speeches during Walmart's annual shareholders' meeting at the Bud Walton Arena in Fayetteville, Ark. Sponsored by Making Change at Walmart (MCAW), Hooten and Cooper Grabb wanted the company and its shareholders to hear some real stories about their experiences with Walmart.
Hooten, who is from Placerville, Calif., has been a Walmart cashier for five years, yet only makes $10.69 an hour. Cooper Grabb is a former Walmart customer from West Plains, Mo., who stopped shopping there after the company unjustly fired two of his friends.
"I love my job, but I'm frustrated by the broken promises from management," said Hooten. "Like many of you, when Walmart said it would increase wages, expand career opportunities, offer more training, and put more staff in our stores, I was excited. Then I got my paycheck. My raise was just 23 cents an hour."
"[Since my friend Frank Swanson] was forced out of the company he loved, we have heard of more stories of workers mistreated, abused, and unjustly fired," said Cooper Grabb. "Recently, the National Labor Relations Board ruled against Walmart for illegally firing and disciplining workers. Pregnant workers are not always treated with respect and, in some instances, get fired for an unexcused absence when, in fact, they were at their doctor caring for their unborn child. Senior workers, people over the age of 55 who have spent ten to 15 years at Walmart, are now being demoted, dismissed or forced out. And despite what Walmart says about investing in workers, workers report that many Walmart stores have been cutting hours and staff to offset the recent wage increases."
During the week leading up to Walmart's shareholders' meeting, MCAW hosted a press conference with Walmart workers, who shared stories about being unable to afford rent, getting seriously injured on the job, and getting fired for unfair reasons. MCAW, along with allies and elected officials, also held rallies in St. Louis, Mo.; Grand Prairie, Texas; Washington, D.C.; and Sacramento and Oakland, Calif., to call on Walmart to pay their workers higher wages; stop mistreating pregnant, senior and ill workers; and give workers more reliable schedules and hours.
One

Response to "Walmart Workers Take a Stand at Company's Shareholders' Meeting"
Tom P Noonan