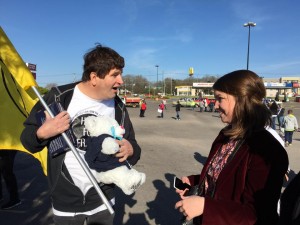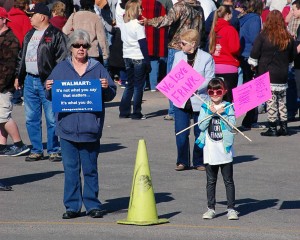 On April 2, Frank Swanson, a Walmart cashier in West Plains, Missouri, who was 20 days shy of his 20th anniversary with Walmart, was terminated. At the time, Frank made $13.92/hour. Frank is 52 years-old, and suffered brain damage from an accident that took place when he was in 8th grade. He is also partially paralyzed on one side. He was eligible for disability payments when he turned 18, but he's never received them. If you ask him why, he says he is able to work, so why shouldn't he earn his money?
Frank is well-known at Walmart and in the town of West Plains for being a generous man who always helps out anyone who needs it. Former customers and members of the community tell stories about when Frank took money out of his own wallet to help someone pay for their groceries, or gave a hug to a woman fighting cancer, or helped them when their cart broke down in the store. Others know Frank because he regularly donates food, children's clothes, and stuffed animals to people in need. He visits the town nursing home to see his elderly friends often.
"If you give people a hug, it reduces their blood pressure and they keep living, and keep coming back. They cut their nose off their face with this one because I was so good to customers," said Frank, regarding why he liked to hug his Walmart customers.
Despite all this, Walmart fired Frank because they say he gave excessive price-matching discounts to customers, and because of the hugs. Frank says he asked permission before he hugged anyone, and often the hugs were initiated by his friends, his long-time customers.
"I know he kept a lot of people coming into Walmart who might not have," said one West Plains resident.
Frank also took Walmart's price-matching policy very seriously, and every week, studied up on competitor's advertised prices. However, after management spoke to him about it, he only price-matched when a customer had evidence and brought up the competing price.
The West Plains community was so upset about Frank's termination from Walmart that they organized a rally on Saturday morning, April 9, in the Walmart parking lot. Hundreds of people attended with signs that said "BE LIKE FRANK" and "WE LOVE YOU FRANK." He greeted everyone with hugs, and before the event started, made sure there was enough water for everyone, and enough chairs for those who couldn't stand up for very long. Many people who came to the rally stated that they would definitely stop shopping at Walmart in order to protest Frank's firing.
One

Response to "West Plains Community Rallies Around Fired Walmart Worker"
PHILIP C. ROMERO