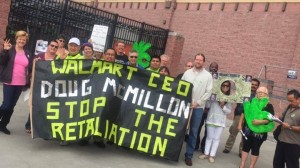 On August 24, Walmart workers and supports protested outside of the Walmart store in Oakland, Calif., where Walmart CEO Doug McMillon was expected to be making a store visit. While McMillon never showed up, the protestors called on him to stop retaliation against workers who speak out about low wages and unfair working conditions at Walmart. The workers involved in the protest included some from the Pico Rivera store – one of five stores that Walmart abruptly closed last April for alleged "plumbing problems," laying off more than 2,000 workers with just hours' notice.
Denise Barlage, who worked at the now closed Pico Rivera, Calif., store said, "We need reinstatement of all Pico workers. I told the manager, I'm sure you're a nice guy, but you should never feel that you can't be downsized as well."
Margaret Hooten who works at the Placerville, Calif., Walmart store said, "I support unjustly fired people. I'm not going away."
The Pico Rivera, Calif., store that Walmart closed was one of the most vocal in the fight for $15/hr and respect on the job. It was the first store to ever go on strike back in 2012. More recently, workers from that store held sit-down strikes and even participated in civil disobedience.