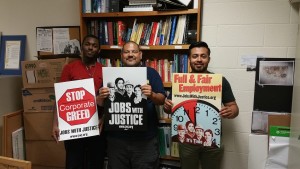 Myron Coguox works at Food 4 Less and is a member of UFCW Local 324.
I spent my GOLD internship working alongside Jobs with Justice in Atlanta. The overall goal of the summer was to help motivate people to organize and have a union voice on the job to help them improve their jobs and lives.
When I arrived, I knew very little about the South and it was sometimes difficult for me to reach people within the community. I come from California and found Georgia to be quite different from home. This experience has opened up my eyes to how difficult organizing can be inside a right to work state.
I spent a lot of my time canvassing a community called East Point and it was challenging. Beyond being perceived as the "new" person in town, what made my job particulary difficult was the fact that East Point is an exceptionally conservative community. The people I met weren't always so receptive to labor unions. To overcome this, I would always share my personal experiences to help establish trust. If they trusted me, they would be more likely to talk with me about how together we can stand up for more jobs and better wages.
Working in Georgia made me realize how much working people suffer. Areas with low incomes and few jobs are in desperate need of change. This summer taught me that the best way to bring that is for people to band together both inside and outside of their workplaces.
I'm looking forward to going home and sharing everything I've learned with my local union. Most importantly, I won't take the strength of our solidarity for granted.