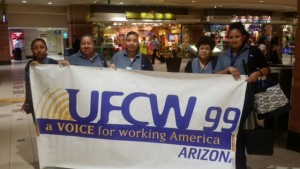 On July 14, UFCW Local 99 janitorial workers at the Sky Harbor Airport in Phoenix, Ariz., ratified their first union contract. The 250 employees work for a company called ISS Facility Services.  The contract was organized by a card check and includes wage increases, seniority provisions, as well as paid holidays. The contract is the result of a five-year campaign of workers fighting to have a voice at work.
"It's been a long journey. I am very happy that we finally have a union contract and that we are part of a union here," said UFCW Local 99 member who is also an ISS worker Refugio Diaz.
"It was a long battle but we finally have job security and set wages thanks to our union contract," said Amparo Gomez from UFCW Local 99 and also an ISS worker.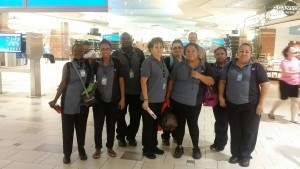 Sky Harbor Airport parking lot and ground transportation workers and other units are already members of UFCW Local 99. The janitorial staff decided that they wanted to become union members as well in order to improve their jobs and working conditions. To help these workers become union members, the Local launched a global, political, and worker campaign to help them organize and secure a good contract.
ISS is a global company with headquarters in Copenhagen, Denmark. UFCW Local 99 worked with UNI to visit their headquarters and call on the company to honor the global agreement for worker protections that they signed with UNI for the staff at Sky Harbor Airport. Following that trip they secured a card check and workers became UFCW Local 99 members.
Workers also had strong political allies throughout the campaign to have a union voice and ratify a good contract. The mayor and city council were open to meeting with workers when there were problems on the job. Then the allies on the city council would meet with ISS to address the workplace issues. This helped hold the company accountable during the organizing campaign and contract negotiations.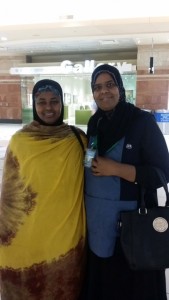 Workers also stuck together and stayed strong throughout the campaign and negotiations. They held several rallies at the airport and were joined by local political and labor allies. They also wore buttons to show solidarity and worked together to sign up as many of their coworkers as possible.
"We are happy that now we can provide more to our families. We are really grateful that we have job protections and a better workplace," said UFCW Local 99 member Farhiya Duh.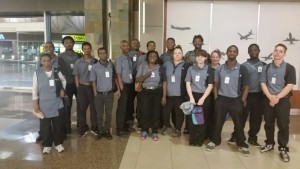 2

Responses to "UFCW Local 99 Airport Janitors Ratify Their First Union Contract"
Arnold Guerrero