On July 15, UFCW International President Marc Perrone attended and spoke at the reintroduction of the Schedules That Work Act. The bill was introduced by Sen. Elizabeth Warren and Rep. Rosa DeLauro.
In his remarks, Perrone described how unfair work schedules put people at a disadvantage.
"Every day, in the interest of maximizing their bottom lines, companies use erratic and last minute scheduling to force people to work harder and longer and be unaware of their shift until the last moment," Perrone said. "The impact of this is significant. American workers often have no choice but to be a prisoner to their job and this makes it impossible for men and women to adequately plan their lives and prepare for their futures. The Schedules That Work Act takes a meaningful step towards ensuring better work schedules and with it, better lives for workers and their families."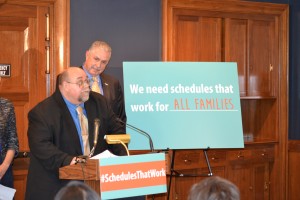 For proof that providing workers with stable schedules makes a difference, Perrone was joined at the event by UFCW Local 400 member Paul Rickey.
"Thanks to a strong collective bargaining contract throughout the years, Paul has been able to both advance his career and be there for his family when they needed him most," Perrone remarked. "The Schedules That Work Act will bring that same benefit to all hard-working men and women across America, and I believe it should be a priority for this Congress and our President."
One

Response to "President Perrone Speaks at Reintroduction of the Schedules That Work Act"
mark govoni