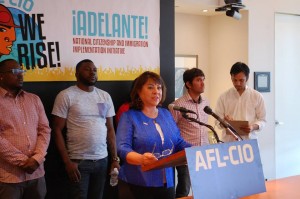 UFCW Executive Vice President Esther López stood with labor leaders and workers as part of a press conference at the AFL-CIO Monday to send a loud and clear message: unions will continue pushing forward with their efforts to build worker power for immigrants and not wait for Congress, the courts, or the elections to act.  The event took place a day before Deferred Action for Parental Accountability (DAPA) was scheduled to start, a program granting millions of workers the opportunity to live and work without fear.
"May 19 should have started a process where undocumented workers could apply for legal rights and some peace of mind," said López. "It was about taking a step forward, however modest, in the fight to fix our broken immigration system. But instead DAPA remains in limbo. And for that we say to the politicians who have held it up—shame on you. We know the lawsuit is a political stunt—an effort to scare away immigrant workers from applying for DAPA. The best way to fight back is to continue getting ready for this program. So that is exactly what we are doing. When the legal ruling finally comes down, UFCW members will either be ready to file for DAPA or fight for it."
López laid out the work the UFCW has been doing to get ready for DAPA. "From coast to coast, local unions have hosted workshops to help members determine whether they qualify, gather necessary documentation, prescreen their applications, and answer important legal questions," she said. "The UFCW is moving forward—full speed ahead. The goal remains the same—to ensure UFCW members are first in line when the application process begins."
Even in the face of DAPA being delayed, López said she remains optimistic. "Our movement is as strong and organized as I can ever remember it," she said. "Workers and families and communities are standing up and speaking out. Together, we will fight for DAPA. We will fight for comprehensive immigration reform. Most of all, we will fight for the better America each and every one of us deserves."
For more information about the UFCW's DAPA program, visit immigration.ufcw.org.