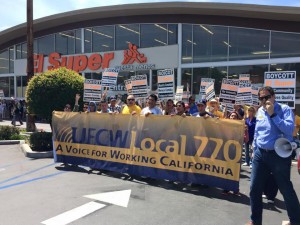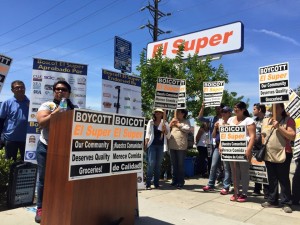 Last week, El Super workers and their supporters rallied outside the company's Highland Park store to announce that the federal government has issued a formal complaint against the company, and will prosecute El Super for its coercive and threatening conduct designed to silence its workers.
The National Labor Relations Board (NLRB) issued a complaint  describing El Super's "interfering with, restraining, and coercing" employees standing up for their rights—including the suspension and termination of Fermin Rodriguez, and its refusal to bargain with union workers. The complaint alleges that all levels of management—including the company's CEO Carlos Smith—participated in the company's illegal tactics.
UFCW local unions in California represent approximately 600 El Super employees at seven stores throughout Southern California. These employees have been without a union contract since September 2013, and El Super has refused to negotiate with its employees' union for more than a year.
After more than a year of operating without a union contract, El Super employees and the UFCW launched a boycott in December 2014 to protest poverty pay, widespread violations of workers' rights, including the termination of El Super cashier and union leader Fermin Rodriguez, and the company's refusal to negotiate in good faith. More than 80,000 shoppers have been turned away by community supporters and workers at informational picket lines in front of the stores.
Since December, support for the boycott has grown tremendously, gaining endorsements from numerous elected officials and community groups. More than 110 community organizations, eighteen Los Angeles neighborhood councils, and the 2.1 million working families of the California Labor Federation have endorsed the do-not-shop campaign.
In addition to unfair labor practices, many community and elected leaders have raised concerns about the number of health code violations at southern California El Super stores—over 670 documented violations since February 2014.